Steps to follow to become a vendor and make your bottles Smart with the NFC technology
Start registration, step 1 to step 4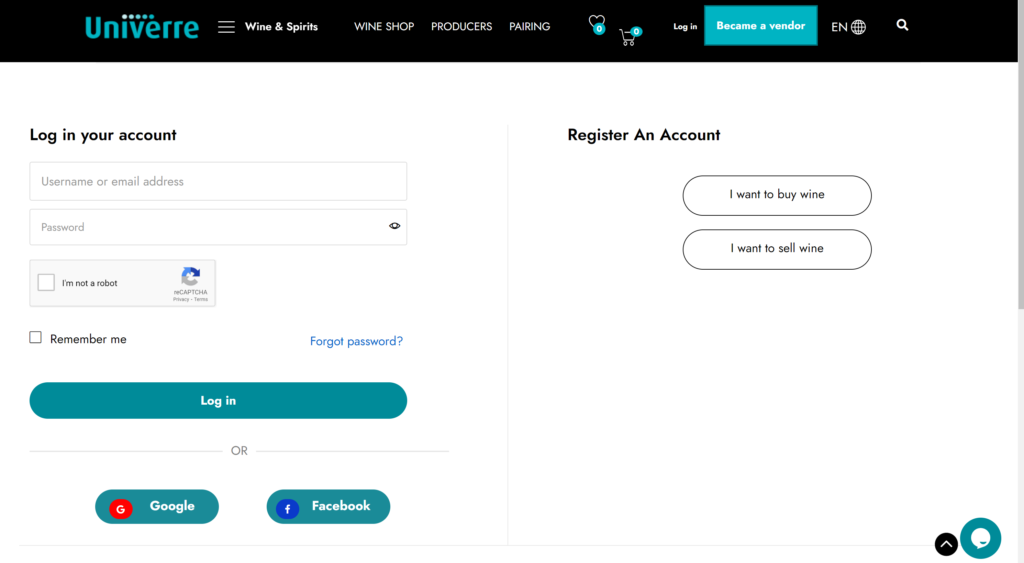 1. Register your Vendor account
To become a vendor on the Univerre Smart Bottle platform all you need to do is register your account as a vendor. Before you sign up make sure you have the followings: Valid contact details: email address and phone number


Once you register will have access to the Vendor Dashboard for all your selling needs.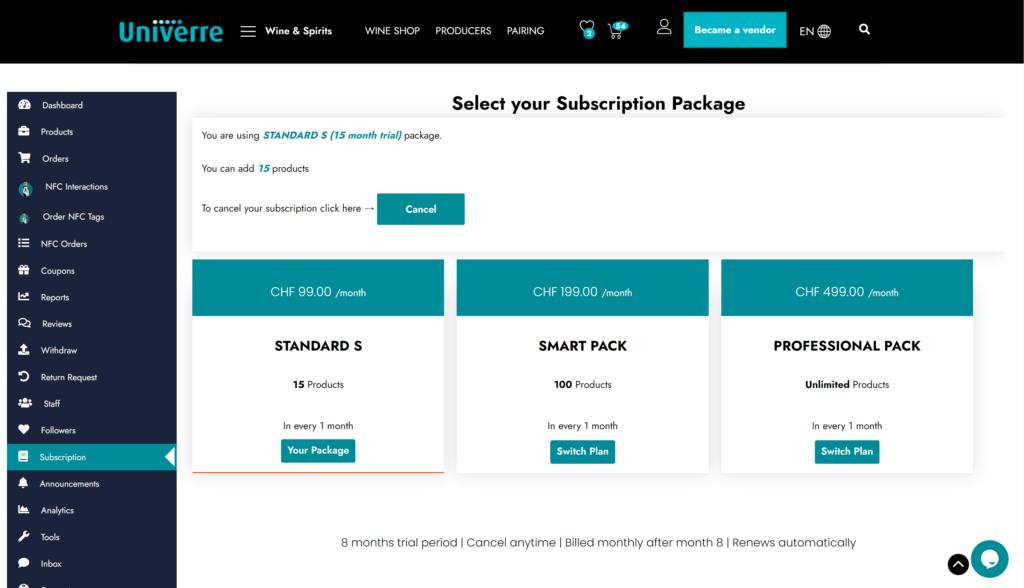 2. Activate your Subscription Package
The second step to follow is the activation of the subscription plan. There are 3 available subscription plans. Select one that meets best your business needs.  To activate the subscription you will need to complete checkout with your credit card details. 
3. Add your product listing
After you have set up your vendor account to start selling you need to create a product listing. The product categories sold on this platform are wines and spirits.
Go to your Vendor Dashboard, click on the Products tab and click on Add New Product, enter all the product details. Here is the important product information that you need to add when creating your first product listing.
4. Order NFC tags for your products
By embedding NFC tags to your products you make your products smart. Once you have created a product listing on Univerre Smart Bottle Platform. Go to your account, open tab Order NFC Tags and select the products for which you would order NFC tags.  
Univerre will prepare and ship you the ready-to-apply NFC tags customized for your products. Once you have received NFC tags and have applied NFC tags on your products. You are ready to sell!
Shop management, steps 5 to step 8
5. Receiving orders from consumators
Once your product listing has been published on the website your product is available to be purchased by users. For every received order, you will receive a notification email. Your first sale is a big achievement and it marks the beginning of your journey as a vendor on the Univerre Smart Bottle platform. 
Order fulfillment 
Fulfilling orders is your responsibility as a vendor. You ship your products from your cellar directly to the customers yourself. The order status should 
6. Deliver your products to the customer
You should ship the order as soon as possible preferably the same day or the next day. The latest acceptable time for shipping your orders is 48h after the order has been placed by the customer.  
Customers will have the right to review you as a vendor on the platform for your correctness. To maintain the service quality Univerre reserves the right to disable producers accounts who receive more than 5 bad reviews.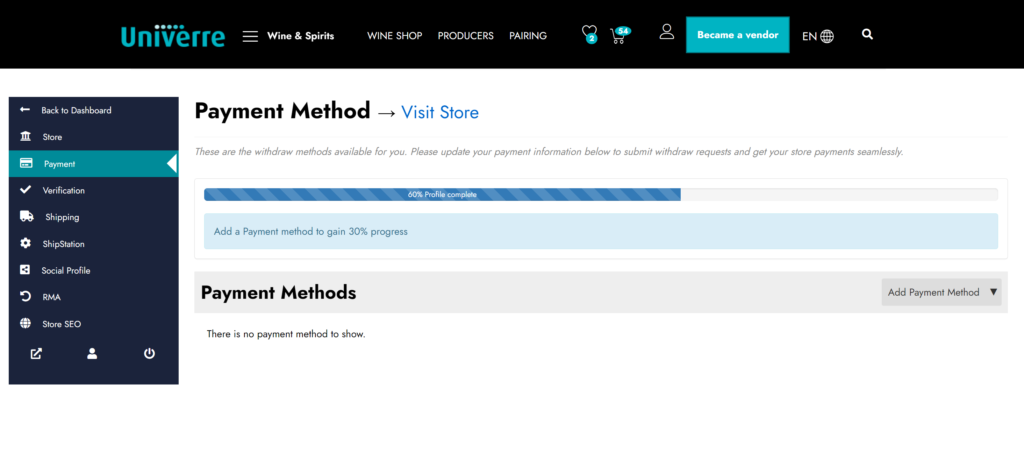 Depending on the selected payment method, there are two options on how you can get paid.
Direct Payout
If you have a Stripe account you will receive your money instantly. So the money is transferred from the customer directly to your Stripe account.
Cumulative Recurring Payouts
If you do not have a Stripe account and you prefer to get paid using other payment methods such as Bank Transfer or PayPal, the money will be transferred to you when you have a positive balance (of a minimum of 100 CHF). The payouts will be recurring with a frequency of one payout per month.
Types of Data collection reports, point 8 & point 9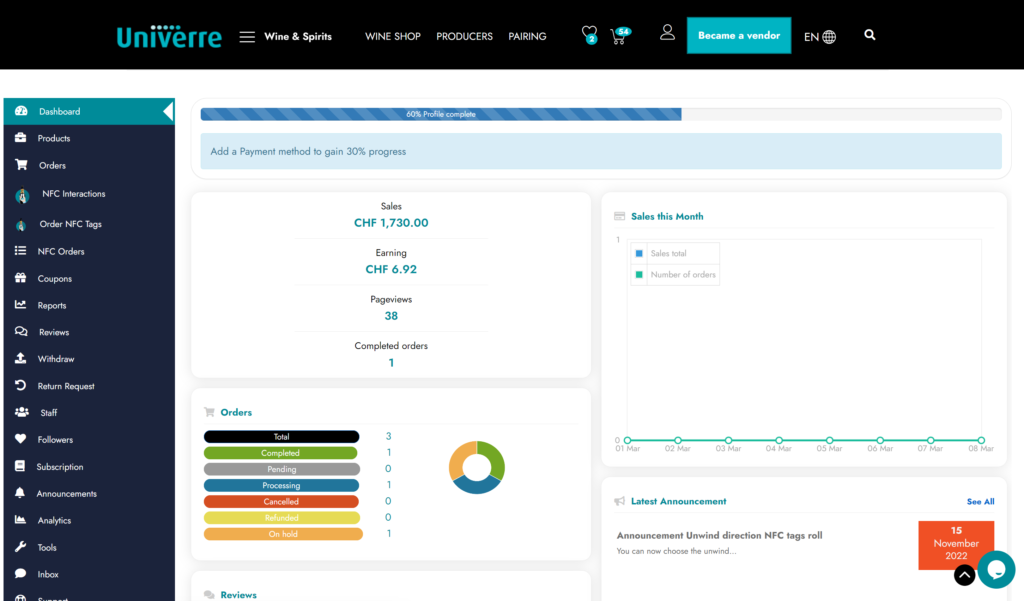 8. Data Analytics and Metrics
On your vendor Dashboard, every vendor has available reports of 4 different levels:
These reports are very important to get an overview about the performance and to give you some insights to measure and improve your performance . 
9. NFC Interaction Report
When you have enabled your products with NFC, as soon as your Smart Bottles are on the market, you will start collecting interaction data. The NFC interaction report contains information on when, how, and where end-consumers are interacting with your Smart Bottle/s. 
The time to collect a considerable amount of data is different for different use-cases, but generally, it could take between six to eight months. 
No commission fees, no hidden extra cost !